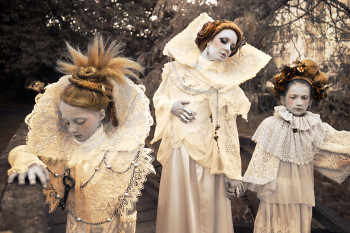 Exiles from Delight is a new photo session shot by Photographer Nina Pak for the "Lyrical Dreams" edition of Miroir Magazine published on 28.10.2012.
This was one of the first shoots for Miroir Magazine, with the talented Vancouver designer April Peters of The House Gallery Boutique. The Silverwolf family was visiting from Seattle and we had a day to play at April's Boutique which is filled with the most wonderful costumes you can imagine!
Every wall and every counter, display case, and garment rack is filled with magical things… masks, trinkets and extraordinary charms and gems, period style garments, Avant Garde' creations, and Steam Punk outfits, hats and accessories.
Josephine and GJ are long time friends of mine, Josephine is an artist and yoga teacher, GJ is a musician, and their daughters Naia and Eden are also extremely creative and ever more so as they grow older. They are my God daughters, and I was so delighted when April created garments in their size to include them in our shoots. The girls just adore April, it is always a fun day when we have a chance to get together and do a creative shoot. Captured here are a few moments of beauty in these garments, which April made with antique lace, by re-purposing drapes and table clothes and other special fabrics, then adding accessories that she also made by re-purposing little treasures she finds while shopping at thrift stores.
April Peters is just ingenious when it comes to creating costumes and very fast in her manufacturing. When we come up with a theme, she has often surprised me with a whole new wardrobe for the shoot in as short a time as a week or two. And they are so well made with intricate details. She is imaginative and thinks outside the box, coming up with some pretty wild things at times, which is so inspiring for me.
Exiles from Delight has a period feel to it, but also elements of Steam Punk.
Photography by Nina Pak
Designer: April Peters of The House Gallery Boutique
Models: Josephine, Naia Fae, Eden Sky, and GJ Silverwolf
Hair by Dreamloka Styling


Make-up:
Josephine: Lawrence Hon
Naia: Krysten Merrick
Eden: Lawrence Hon
GJ: Donika Rudari
Touched by an Angel
We, unaccustomed to courage
exiles from delight
live coiled in shells of loneliness
until love leaves its high holy temple
and comes into our sight
to liberate us into life.
Love arrives
and in its train come ecstasies
old memories of pleasure
ancient histories of pain.
Yet if we are bold,
love strikes away the chains of fear
from our souls.
We are weaned from our timidity
In the flush of love's light
we dare be brave
And suddenly we see
that love costs all we are
and will ever be.
Yet it is only love
which sets us free.
Maya Angelou
MIROIR MAGAZINE – Lyrical Dreams – Featured in our Lyrical Dreams edition: Dreams of the Last Butterflies, City Nymph, Surreal Dreams, Nina Pak, Exiles from Delight, Stephen Thorne, Ragen Mendenhall, Charlie Terrell, Francis A. Willey, Kelly Brown, and showcasing the art of Mark Garro, Josh Keys, John Brophy, Marion Peck, Mark Ryden, and Ron English. • Miroir Magazine is an international fashion and arts magazine promoting aspiring and…