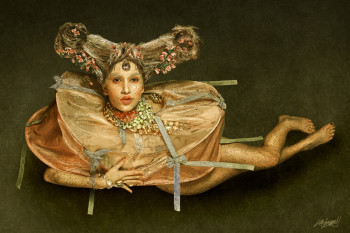 Charlie Terrell is a renowned video artist and graphic designer who creates vivid visual backdrops and motion graphics for the live performing arts. His extensive background in music, touring and theater give him a unique perspective for enhancing the live experience for both the audience and the artist.
He is also a talented film director, cinematographer, and editor.
Charlie is a featured artist in this issue of Miroir Magazine.

His company, Daddy Van Productions, designs, creates, and produces motion graphics visual art for some of the world's most famous musicians including Maroon 5, Marilyn Manson, Keith Richards, Paramore, Dave Mathhews Band and Motley Crue. Charlie also wrote and produced the critically acclaimed rock opera Taking the Jesus Pill.
Besides being a painter, Charlie is also a talented film director, cinematographer, editor, musician and playwright.
"The Animal" by Charlie Terrell
Here's one of several films Charlie directed for Nine Inch Nails
Artist Statement
I am an artist from a small town in Alabama. I have no formal training. My portraits are a combination of photography and digital painting. My work is a mixture of all the artists I like. I take on the creation of my images like a playwright and director. I chose an actor, design the scene and then begin the performance. When the shoot is over I hand paint the final photo to completion. I am fascinated with the female form and the world of plants and insects.
MIROIR MAGAZINE – Lyrical Dreams – Featured in our Lyrical Dreams edition: Dreams of the Last Butterflies, City Nymph, Surreal Dreams, Nina Pak, Exiles from Delight, Stephen Thorne, Ragen Mendenhall, Charlie Terrell, Francis A. Willey, Kelly Brown, and showcasing the art of Mark Garro, Josh Keys, John Brophy, Marion Peck, Mark Ryden, and Ron English. • Miroir Magazine is an international fashion and arts magazine promoting aspiring and…