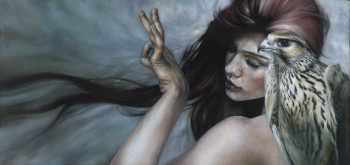 Ragen Mendenhall was born in 1978 in the city of Las Vegas, Nevada. She has been artistically inclined since childhood, and is mainly a self-taught painter. Her soulful paintings reflect vibrant interpretations of the human experience.
Often they feature beautiful women merging with nature, animals and elaborate decoration, incorporating elements of the Art Nouveau style as well as traditional realism.
It has always been my goal to impart powerful emotion into my paintings. Atlantis Rising is a special piece for me because I feel that each one of us resonates deeply with the need for nurturing, warmth and connection. The newborn child, is also a powerful allegory as it relates to any new idea born into the physical realm.
I completed this piece over 11 years ago, but I feel this painting has a powerful message to share at this particular time, when the world in which we find ourselves is a place of ever increasing conflict and disillusionment.
With incredible devastation to the planet, our 'mother', and the pervasive energies of greed and fear that threaten our ability to find meaning and create beauty in the world, humanity is pushed through the eye of the storm, towards a breaking point.
These are the birthing pangs of a new seed of consciousness, a knowledge that is born of contrast and tumultuous adversity. We can rise to a new level when we acknowledge these dark elements as divine teachers. Observing nature, we may embrace the idea that these destructive forces are a necessary catalyst for dynamic revolution.
Here, we are given an opportunity to embody the passion… the will… and the sublime creative powers of the human spirit. To reconnect and support one another, envisioning and creating the new world as we truly wish it to be.
To view more of Ragen's art, visit her website
MIROIR MAGAZINE – Lyrical Dreams – Featured in our Lyrical Dreams edition: Dreams of the Last Butterflies, City Nymph, Surreal Dreams, Nina Pak, Exiles from Delight, Stephen Thorne, Ragen Mendenhall, Charlie Terrell, Francis A. Willey, Kelly Brown, and showcasing the art of Mark Garro, Josh Keys, John Brophy, Marion Peck, Mark Ryden, and Ron English. • Miroir Magazine is an international fashion and arts magazine promoting aspiring and…