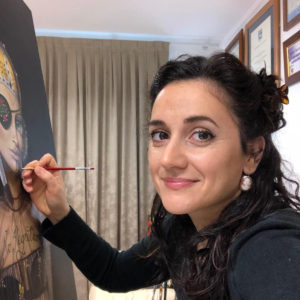 Interview by Constanza Tagiaferri
Q: Could you tell us about your artistic journey and how did you arrive to prefer acrylic and graphite?
A: As long as I remember myself I have always been engaged in some kind of art activity. My parents would take me to a variety of art classes as it seemed like the one thing that I was always interested in. As long as I had some paper and pencils I didn't even require babysitting from about the age of two. Later I went on to art school and afterwards became a full time artist.

In the beginning of my art career my studio and my bedroom were conjoined so I couldn't use oils anymore because of the fumes and instead focused on acrylics, after a while I learned to create same effects with acrylic as I did with oils and just got really accustomed to acrylics. Most people assume that I use oil paint when they look at my paintings before reading the inscription.
As for graphite – for me everything starts with graphite, any sketch, idea or painting begins its life as a pencil on paper mark and then develops into an art work. It also gives me an opportunity to work in monochrome, which I love to do for a change.
Q: Between Russia and New Zealand, what has strongly directed the evolution of your style and contents?
A: My art education started in Moscow where I studied many different techniques: ceramics, folk art, watercolor, Palekh miniature and Icon writing among others. Classical schooling is quite popular in Russia so I gained most of my technical skill there. In New Zealand I carried on with my studies at Elam School of Fine Arts (University of Auckland) and it differed greatly from Russian schooling as it was so much more self directed, conceptual and not very technical. I personally feel that there is a combination of both influences in my art. I find myself being drawn to the history and it's cultural traditions of many places around the world including Maori culture which I learned so much about while living in NZ.
Q: How are the iconography studies in Russia influencing the creation of the fantastic characters of your painting?
A: Iconography (Icon writing) is a centuries old technique that is very traditional and requires a number of rules to be followed. Specific stages of egg tempera layering and face depiction are very symbolic – you have to start with a mixture of red and green to create the first layer and then white, ochre, red and the top 'skin' layer. When I work on the faces I use similar techniques of layering the paint in layers on top of each other rather than mixing the wet paint like you would with oils. Icons are also extremely detailed and that is the part of painting I enjoy the most in my works. Depictions on Icons tell stories about lives of individual saints or specific events and my paintings also invite viewers to untangle a story.
Q: You are often exhibiting in Italy and UK. Is travelling a source of inspiration of the surreal symbolism of your works?
A: I love travelling and It definitely has its influence. Historical places have their own appeal and power and I'm such a geek for museums and galleries. Sometimes it's a conscious decision to include some artifacts in my paintings but most of the times it happens in a less controlled way and more on a subconscious level.
Q: The fantastic scenarios of your painting are in between reality and illusion, tradition and modern. How is this surreal imaginary reflecting your vision of the future?
A: My recent body of work doesn't focus on any one specific time frame. Perhaps it's a futuristic concept of looking at time without the actual timeline as these paintings represent souls travelling through reincarnations and therefore the notions of the past, present and future are very different to the way we experience them in our lives. The painted characters are not people from the plane that we call reality but souls travelling through dimensions of space and time. They are the ethereal beings that encompass a continual history within themselves. The spectator gets a chance to observe the fusion of lives of each soul that are almost like transparencies that overlap to form one image. The scars and tattoos that grace their bodies are the artifacts of previous existences but this is not the end of their journey as this road takes them into the future.
Q: Surrounded by luxurious objects, the illusory perfection of fruits is a symbol of the diverse narratives of your paintings. Is this fake perfection a suggestion for a utopian interpretation of the future or a dystopian representation of society?
A: Perhaps bit of both but really there is no final answer to this question as we see events, objects and people in a very different way from each other, which depends on our own life experiences. So in a way the viewer creates their own interpretations. Some people view my art as a fairytale others on the other hand focus on the darker parts of the story. In reality it's just like in real life: bad doesn't come without the good and vice versa. There is always a price pay and someone could just be behind the scenes manipulating and pulling the strings. There are almost always more questions than answers as we have to figure things out for ourselves. Do we focus on doom and gloom, do we only see the pleasant things and live in lalaland or can we navigate through, ask the right questions and learn lessons from what life throws at us.
Q: In your paintings, the relationship between human and animals is both ambiguous and mutual. How do you see the way in which we relate with nature and animals?
A: Many animals are such beautiful creatures and in a situation with pets when you really get to know them and their personalities one can see how expressive some of them can be. Most of the time when I portray animals I try to accentuate that other mystical side which some people call cleverness or just that extra personality with the sparkle in their eye. They are also very symbolic and can embody many interpretations and meanings or create a particular mood.
Q: If the style of your past works looks at historical fashion, your latest pieces look to future and modern scenarios. What inspires this evolution?
A: I love fashion but not the trendy sort of kind, it's the fusion of intricate details of diverse national costumes throughout history that I find the most intriguing. I love mixing few very different objects that have nothing in common to shape one garment. In a way it reflects every single one of us, we may think we are from one particular place or heritage but in reality most of us have very diverse ancestry and that is the fabric that we are weaved from. So in that context I don't see them as being futuristic but rather in a collapsed time and space dimension.
Q: Particularly with the female characters, the symbolic combination of modern elements opens diverse interpretations. As an artist, why do you think it is important to suggest diverse readings to the viewer?
A: I find that everyone relates to the works differently. We see events, objects and people in a very different way from each other, it most commonly depends on our own life experiences. Cultural, educational, religious points of view and other momentary life events can make a big impact on the way we react to visual stimuli in art works and what we choose to see. The untangling of the story invites the spectator in so eventually everyone forms their own personal connection with the work and enriches it with their individual experiences. So in a way the completion of the narrative only happens when the viewer engages with the painting.
Q: Are there any future projects that are particularly inspiring you at the moment?
A: I am planning to create some larger sized artworks, to be honest I've wanted to do this for a while but it's still only a plan at this stage.
About Time Travellers
They move through time, they fight for their existence, they accumulate knowledge, love, wisdom and endurance. They are not people from the plane that we call reality but souls travelling through dimensions of space and time. They are the etherial beings that encompass a continual history within themselves. All of the beings depicted in this series are strong old souls and carry levels of energy beyond the bounds of human comprehension, at some stage of their reincarnations they held a lot of power, won battles and lost dear ones, spared some enemies but mercilessly crushed others and just like us, had to make hardest decisions in life: stay or go, speak up or be quiet, hold on or let go.
These paintings are an opportunity for the spectator to observe the fusion of lives of each soul that are almost like transparencies that lap over to form one image. The scars and tattoos that grace their bodies are the artefacts of previous existences. Etherial souls don't value gold or jewels but every single adornment, pearl or stone holds a vast quantity of information and knowledge that can only be deciphered through the use of symbolism and intuition.
Each painting has it's own story that sits on the border between reality and fantasy. Depicted subjects have powerful narratives and can create intimate relationships with the viewer. It is a mutual creative process of untangling that brings the work closer to it's completion and creates a mental play-ground to be explored.
Biography
From a very young age Leila's life was strongly influenced by art. She started her art education in Russia and in 1996 moved to New Zealand where she continued to study and practice art. Leila won a number of art awards and exhibited in a large number of personal and group shows in New Zealand, USA, Italy, Spain, Australia, UK. Her works feature in many private collections in New Zealand, Australia, England, Italy, South Korea, Russia and Dubai. She has established and run Art School since 2004 that offers art classes for Adults and Children, and located in Belmont, Auckland.
Leila Ataya's website: leilaatayaartist.com