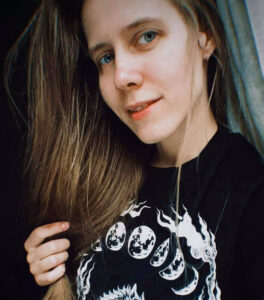 Q: Do you believe as artists that we have a responsibility to address environmental issues?
A: Yes, I think that each person is responsible for what is happening around him, both locally and globally. There is a lot of injustice in the world, perhaps these are the rules of this life, but this does not mean that we should not make efforts and try.
Q: How does nature, the elements, and the environment inspire your work?
A: Nature has always inspired me. I do not separate a person and I think that we are also a part of this whole universe. Since childhood, I was fascinated by nature, I felt my merger with the outside world and talked with trees, insects, and birds. Especially in the summer when I was leaving the city. Now I am less and less often away from the bustle of the city, but mentally I am still there, breathing in the fresh morning humid air.
Q: What environments in nature are you most drawn to? (For example the forest, the sea)
A: Most of all I love the coniferous forest.
I think that walking through the forest you can feel something really special. This is some kind of deep mystical feeling.
I like to just walk and not know the route. It gives me a sense of peace. Time moves differently in the forest. He can either reward you with the greatest gift or kill you if you are not careful.
A lot of my childhood experiences are connected with the forest.
Q: If you had funding for any project you wish, what would it be?
A: If I had such an opportunity, I would like to draw attention to the Russian North and Baikal. The Russian north is something amazing, since I myself partially come from there, for me, this is especially important.
North is the place where everything turns to zero. This place is absolutely incredible in its beauty. And I'm sad to know that these places are getting polluted now.
Baikal is a very important place. One day it may become the main source of life for all mankind and the world as a whole. And what is happening there now is terrible.